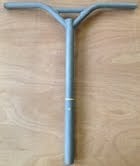 £

17.50
If you have out grown your steel handlebars but dont want to replace them just yet then having the height and/or width increase can give them a new lease of life.
Standard or oversized bars can be extended to your chosen measurements.
We use T45 steel tubing for the down tube and handlebar and have a 3" overlap on the taper.
Paint/powder coat will be removed in the area.
If you require both processes (wider and taller) then put '2' in the quantity option. Add the dimensions you require at the checkout 'note to merchant section'.
PLEASE NOTE
Overly extending handlebars can cause premature failure, breakage or bending.
Mr. H is not responsible for this.