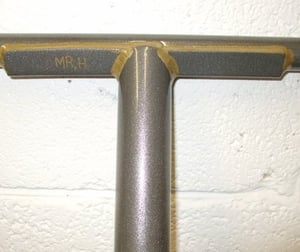 £

95.00
Mr. H-Custom Made Bars
Mr. H offers the opportunity to have bars custom made to your size requirements.
Each set of bars will be hand made to the customers dimensions in either LP.1. I.G1 or O.G Beast spec.
Please Email with confirmed choice of bars and dimensions in inches of width and height and any other requirements you have.
All HIC bars are sold with a slit but a standard size tube can be provided at (free) if you wish to run SCS.
Custom bars are usually shipped within 10 working days from payment date.
Please make absolutely sure of the dimensions sent in for custom bars as alteration to sizes will be charged for at the rate of another set of bars.
Any further questions please Email.
All scooter bars are £7.50 delivered (UK Only).
For international shipping please Contact Mr H. prior to purchasing.